Planters with a purpose.
By giving agricultural byproducts a new life, Kanso is reducing the use of natural resources and minimizing the accumulation of new waste.  
Kanso designs planters with contemporary silhouettes and a minimalist aesthetic. They're planters you can feel good about putting in your home. Founded by two friends, Kanso is the result of entrepreneurial curiosity and a craving for simplicity.
We knew BC-based Kanso had to join Molbak's collection of local, sought-after planters. We love supporting Pacific Northwest small businesses.  
Molbak's resident indoor and tropical plant buyer, Nina, sat down with Kanso founder Alex Pinto and chatted about the demands of eco-conscious consumers and how Kanso made its way into mid-century and modern interiors around the world. Marie Kondo herself is a big fan. The two have collaborated on an indoor planter series for KonMari.
3.10.23 - Come meet these planters in person and shop the collection in-store.
Kanso Defined
Kanso, 簡素, refers to the simplicity or elimination of clutter. It is an expression in a plain, simple and natural manner. Kanso is a mindset.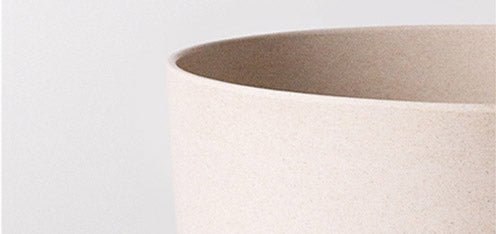 Bamboo Fiber
It is a type of cellulose fiber that is made from the pulp of the bamboo plant. Bamboo is an extremely renewable resource, as it grows much faster than trees, doesn't need fertilizer or pesticides to thrive, and doesn't need to be replanted after it is harvested.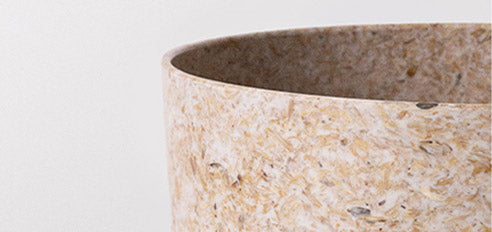 Rice Husk
It is the outermost layer of the rice grain that is removed during the milling process. Rice husks are abundant and are a readily available biomass resource that can be used for insulation, fuel, building materials, and fertilizer.
Walnut Husk
Walnuts are the most widely cultivated nut trees in the world, and globally, over 3.3 million tonse of shelled walnuts were produced in 2020 alone. Walnut husks account for almost 50% of this total weight, and multiple industries are now looking to make use of them, from biodiesel production to natural fiber reinforcements for composites.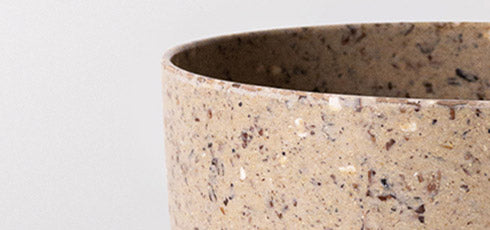 Coffee Bean Husk
During the coffee bean hulling process, the fruits are de-seeded and dried, resulting in a strong husk. Most of this waste is dumped near the factories, which can lead to methane emissions and environmental degradation. Finding innovative solutions for this material is another way to reduce emissions and create a more circular economy.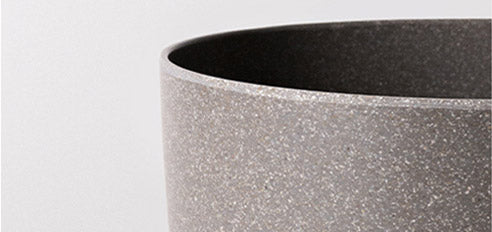 Wheat Husk
It is the hard protective cover surrounding the grain. Although it is mainly seen as a waste material that is either ploughed into the soil or burned, we have also recognized it as a renewable resource for bio-based materials with interesting textures and properties.
Why Kanso?
Clean, simple, refined.
Eco-conscious with a minimalist meets modern design. We're in.
Lightweight.
Ideal for those who love to redecorate and rearrange. You know who you are.
Versatile.
Most Kanso planters are designed for indoor/outdoor use and come in a variety of sizes.
Carbonzero Certified.
Transparent processes from start to finish.  
Spark A Conversation.
Kanso planters are thought-provoking. There's no doubt about it. 
Perfect For Apartments.
With 3" planters and hanging trays to take advantage of vertical space, Kanso appeals to the minimalist.
No Two Are Alike.
Each Kanso piece is the result of a handcrafted finish. Your Kanso is unique.  
At Molbak's, we're persistent in our search to find local, sustainable, trusted brands that you'll be proud to bring home.